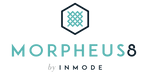 MINIMALLY INVASIVE FACIAL AND BODY FRACTIONAL REMODELING
Morpheus8 targets subdermal layers of the skin and tissue to remodel collagen on the face and body to reveal a more radiant, youthful appearance.
What Can Morpheus8 Treat?
Fat accumulation beneath the chin
Mild softening and jowling at the jawline
Sun damage
Active Acne
Acne scarring and other scarring
Poor skin texture
Enlarged pores
Deep lines and creases
How is Morpheus8 different from MicroNeedling?
Like traditional microneedling, Morpheus8 uses a handheld device to create micro punctures in the skin using specially designed needles. The difference between these two techniques is that Morpheus8 also uses these needles to emit radiofrequency energy into the skin layers, causing the skin to heat and tighten. This added heat promotes the production of collagen and elastin at a much greater level than traditional microneedling.
Since Morpheus8 needles are thinner than traditionally microneedling needles, they are able to go deeper, up to 4 mm. During a Morpheus 8 treatment, your provider at Skin Aesthetics is able to adjust the microneedles to a depth your skin can tolerate. The deeper the needles go, the more collagen can be stimulated.
Waht is the Downtime with Morpheus8 and how soon will I see resuslts?
Mild redness and slight swelling are expected for 1-2 days post-treatment. Make-up may be applied 48 hours post-treatment. An SPF 30 with a physical block should be worn daily. Very rare side-effects include crusting, blistering, hyper-pigmentation, hypo-pigmentation, and scarring are possible.
Most likely, you will notice your skin getting firmer almost immediately after the treatment but typically after 3 weeks the most noticeable results appear. Improvements continue up to three months after treatment. However 2-3 treatments may be necessary for optimal results.